The Deer Hollow Winter Recreation Area is a Nordic Ski area located about 22.5 miles east of Cedar City, Utah on state highway 14. It is administered by the Cedar City District of Dixie National Forest in cooperation with the Cedar Mountain Nordic Ski Club and other local organizations. Trails are normally groomed weekly. There are many off-trail options available as well.
LINKS:  Dixie Forest at www.fs.usda.gov/recarea/dixie/recarea/?recid=81662   or  Cedar Mountain Nordic Ski Club at www.meetup.com/cedar-nordic/. Once you are on the Ski Club website, you can click on the "What we are about" link for information about snow conditions, webcams, weather, recent grooming efforts, etc.
BROCHURE:   The above Dixie Forest link has a nice color brochure and map of the Deer Hollow trails.
CONTACT:  For further information about Nordic skiing in So. Utah or about upcoming ski events write an email to the ski club at  cmnscinfo@gmail.com.
Most recent Grooming Report
Deer Hollow Winter Recreation Area

Thurs, 3/4/21 – After Deer Hollow, east of Cedar City, rec'd 4 to 6 in. of heavy, dense snow over Wed night into this Thurs morning, the trails (about 20 Km) were groomed with the big State Sno-Cat Groomer. Corduroy was laid and classic track was set on all of the XC trails. The snowshoe trails and the new "Easy Street" trail were groomed with the snowmobiles, roller & small YTS groomer. Off trail or "backcountry" conditions are great with about 2 to 3 ft. of settled snow with the 4 to 6 in. of new making it all new again.
Location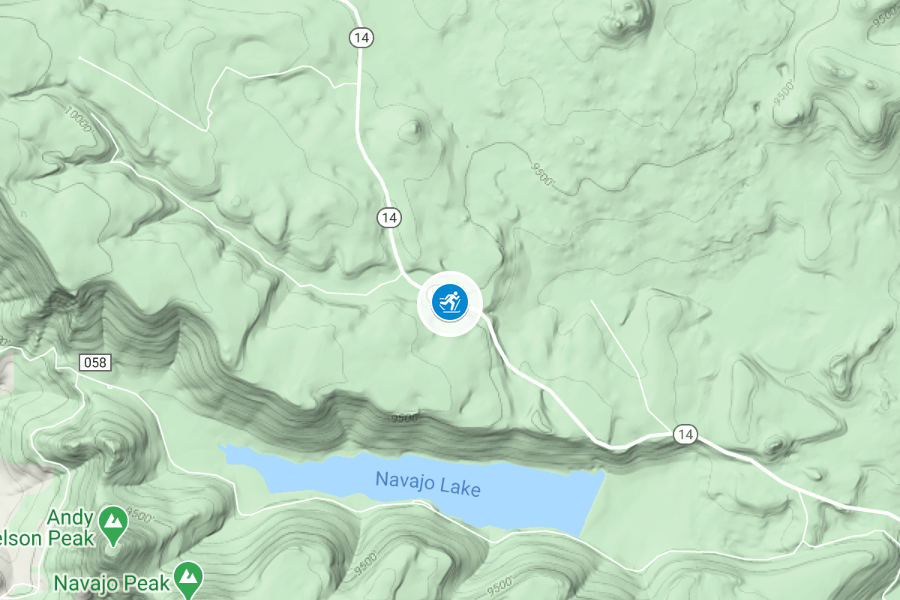 PARKING: A parking loop is located just east of the Iron/Kane county border on highway 14. It has room for some 20-30 vehicles.