*Reservations will open on November 1st at 5pm on the reservation site for Yurt users who were already certified from 2018 to present, here. Please read all COVID-19 restrictions. If you have a confirmed reservation already, you may pay your yurt fees, here.
The Utah Nordic Alliance (TUNA) has operated a yurt in the Uintah National Forest for over twenty years under a permit issued by the Kamas Ranger District. TUNA was the original permitee in this national forest. The Forest Service has allows TUNA to keep the yurt up, all year round and on a permanent platform. Thus the yurt can be used year-round for such activities as hiking, camping, mountain biking, horse packing, skiing, etc.
The original TUNA yurt was located in the North Fork. In 1999 the yurt was moved to its current location along the Norway Flats road, approximately 11 miles north out of Kamas on the Mirror Lake Highway. The yurt overlooks a spectacular view of Boulder Creek with its beaver ponds, summer trails and excellent ski slopes (slopes range in the 30-35 degree range). A wonderful place to spend time ski touring, turning, adventuring and enjoying the backcountry.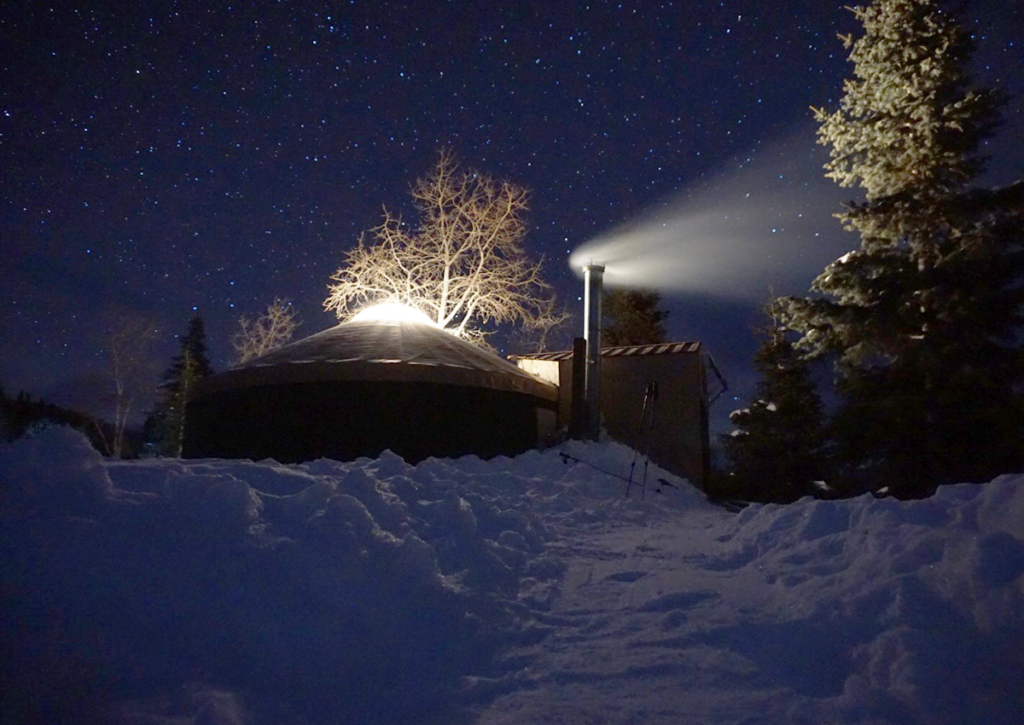 YURT Certification Classes
Due to Covid-19 restrictions, there will not be a certification class for the 2020-2021 season.
All yurt users must be certified in how to safely use the TUNA yurt. The certification requirement will be wavied for all persons who have used the yurt in the last three years or have participated in a yurt maintenance party and are familiar with the required maintenance and safe operation of the yurt. If you have not used the yurt and are not familiar how to get to the yurt or where the yurt is located, you will be required to participate in a certification before you will be allowed to rent the yurt. Yurt certifications are held in the late Fall/early Winter, and occasionally mid-winter depending on need and availability of TUNA members to lead the class. To find out more about certification dates send mail to Peter Swisher at yurt@utahnordic.com.
Yurt Work Parties Work parties for yurt maintenance are scheduled, as needed, during the calendar year, usually during the late Summer/early Fall. If you want to volunteer to work on the yurt, please contact yurt@utahnordic.com or visit the TUNA website. Work trip participants receive discounts on yurt rental fees and priority in making yurt reservations. Work trip participants must be active TUNA members.
Reservations and Classes
To register for certification or to reserve the yurt, click here.
Location/Access
The TUNA Yurt is located in Norway Flats, in the Western Uinta Mountains. The Norway Flats trailhead is 10.5 miles up the Mirror Lake Highway from Kamas; approximately 30 minutes from Park City or 1 hour from Salt Lake. The ski in to the Yurt is approximately 3.5 miles, with an elevation gain of 1000 vertical feet. The trip can usually be made in about 2-3 hours, although factors such as deep snow and heavy loads may require more time. The yurt is regularly used by families with children.
Skiing/Snowshoeing Opportunities
The Yurt sits at an elevation of 8600 feet, and is located on a flat bench surrounded by mature aspen and pines. It overlooks Boulder Creek and several small ponds. There is excellent ski terrain below and to the East of the yurt, with 300 to 400 foot vertical slopes ranging from 30 to 35 degrees only minutes away. More extensive turning opportunities are abundant in the area above the yurt. Moderate touring/snowshoeing is also abundant in the Norway Flats area, as well as more moderate glade skiing.
Amenities
The TUNA yurt is 18 feet in diameter with a covered deck/storage area. It can comfortably sleep 8 (the maximum size party allowed). It is equipped with 8 bunks, a wood stove and a supply of cut and split wood, a propane cooking stove and lamps, and cooking equipment (pots and utensils). There is a year round spring 100 feet from the yurt.