This strange year has been a rollercoaster of ups and downs, surprises and disappointments. Being locked down and confined has caused so many people to leave their homes in search of recreation. If you've struggled to find a new bike or skis this year, that's one of the reasons. With so many people trying Nordic skiing for the first time, it's time to get everyone up to speed on all things Nordic — which is a fancy word for "cross country skiing."
Here's a little FAQ from questions we've been getting over the years:
Q: What does TUNA stand for?
A: The Utah Nordic Alliance. We're a non-profit organization that relies on membership, donations, grants, and volunteers. We're able to offer low-cost programs for juniors and adults of all levels, and maintain a ski track for a small fee.
Q: What's the opening date for Mountain Dell?
A: Mountain Dell is a golf course with natural snow. Unlike our favorite downhill resorts, we rely on Mother Nature to set open and close dates. The club has permission to groom there from around mid-November until March 15th. The course requires a minimum amount of snow just to set tracks without causing damage to the grass, so that date depends on snow.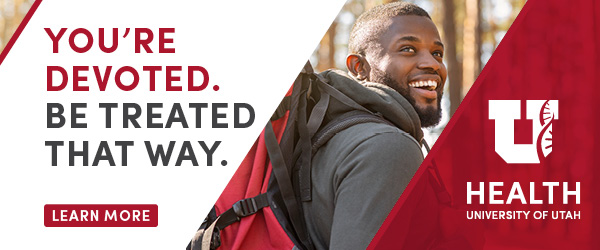 Q: I just started skiing. Can I get lessons?
A: TUNA offers programs for every age from 4 years and up. Visit http://www.utahnordic.org/shop for junior and adult offerings.
Q: I'm already a (alpiner/cyclist/hockey player/runner/etc), do I still need lessons?
A: The sport of Nordic skiing is one that highly depends on technique. Taking lessons from an experienced Nordic ski instructor will propel you much farther with momentum and technique than brute strength. Cross country skiing can be frustrating when you're new, but with just a few lessons you can be gliding around the track with less effort.
Q: My friend says I should skate ski. What is the difference between skate and classic?
A: Classic skiing used to just be called "skiing". This is the oldest and most traditional form of ski transportation. With a light ski and a free heel, and a section of grippy material on the middle of the ski, a skier propels themselves in a running-style motion, also called "diagonal stride". Eventually this type of skiing branched out into alpine, jumping, AT, BC, Rando, pretty much anything people do on skis.
Skate skiing is a faster and newer technique made popular worldwide by American Bill Koch in the 1980's. Originally banned from world competition, the technique was given its own start, and now shares the spotlight with "classic". Skate skis are now a specific type of ski that are shorter and stiffer than classic skis and are smooth from tip to tail. The skier propels themselves by a skating motion with poles.
So, what should you start with? Well, if you have equipment already, that. Both techniques require different skis, boots, and poles. Skating is very popular with cyclists, while runners often find classic to be a more natural motion. We start all of the tiniest TUNA on classic skis because that is a foundation for all skiing.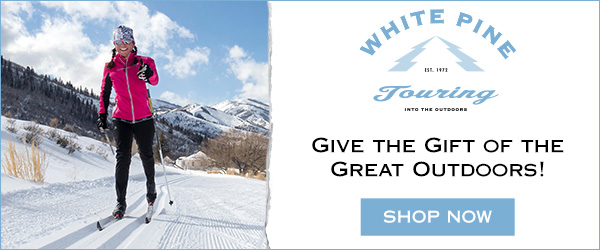 Q: Why do I need a membership to TUNA?
A: Since TUNA is a non-profit, we rely on memberships to supplement our costs for programs and the ski track. Plus, a membership is required for programs, and will get you a discount on your Mountain Dell Pass and racing the Wasatch Citizens Series races.
Q: Do I need a season pass to ski at Mountain Dell?
A: You may pay a daily fee at the track. There is a cash tube for your fee as well as a new option to pay with PayPal from our website. The fee is $10 per day. If you plan to ski regularly this winter and are a TUNA member, the season pass is only $70, which pays for itself — usually before January! If you're not a member it's $110, which still pays for itself if you ski only weekends.
Q: Why do I have to pay to ski at a public golf course?
A: You can't golf for free at Mountain Dell, or swim for free at city pools. Public recreation facilities require tens of thousands to hundreds of thousands of dollars to maintain. There are so many expenses that go into grooming Mountain Dell, and these are all born by TUNA. The crew of groomers are all volunteers, which means they get up at the crack of dawn when it is miserable out to lay down beautiful tracks for all of us to enjoy. Since they are concerned with staying in good stead with the golf course folks and the City of Salt Lake, they are not using a giant PistenBully like some resorts and tracks. They're on 4 x 4's with special tracks and snowmobiles, pulling grooming sleds. Not only do those cost money and fuel, but they need to be maintained.
Just recently, the crew has discovered ways to "harvest" snow on non-skied parts of the course and replace melted parts to keep a continuous track. This is hard, hard work, and these folks are doing it for the love of the sport. Paying your track fees makes this possible. It is your way of saying, "thanks" to this crew, as well as paying for equipment and gas. No fees, no track.
Q: What if they're grooming when I show up to ski?
A: The groomers like to get finished before anyone would be out, but sometimes that just isn't possible. Please give the groomers time and space. Following the groomer might seem fun, but not only does it make them very nervous (they don't want you to be injured) it creates huge gouges in the track that will stay there until the next grooming. Instead, give them a few hours and the track will actually firm up and give you a much faster and more fun ski. If you can't wait, please try to find a place where they haven't groomed yet, and remember to yield to them when the come by. Maybe give them an air high-five too, because right now we can't #hugagroomer
Q: Where can I put on my skis?
A: We don't have a ski lodge, but we do have a big pine tree at the start of the Main loop. Please walk through the snow fencing to the big tree on the track before putting on skis. Main is a directional trail that starts with a downhill. If you're not confident about skiing the first hill, you can walk to the right of the main trail down to the "arena" which is a flat space for learning. You'll see the grooming equipment parked there. And don't be afraid to ask someone wearing tights — they can probably help!
Q: I need to rent ski stuff. Where can I do that?
A: Our local REI, Wasatch Touring in SLC, and White Pine in Park City all rent ski gear. Solitude Nordic Center rents for their course as well. If you would like to buy your own, all of those places also sell gear, along with Backcountry.com. This year is tough, because so many people have decided to try the sport. Be patient, though, as ski companies are working hard to meet these demands.
Q: Can I snowshoe at Mountain Dell?
A: Yes BUT…not on the ski track. You may walk and snowshoe around Mountain Dell, but not on the trails groomed for skiing. They are for skiing only. It may be tempting to take a hot lap on your fat bike, but once again, the groomed trails at Mountain Dell are for skiing only. SR 65, only two miles away, is a groomed area that allows skiing, snowshoeing and fat bikes. SR 65 is also groomed by TUNA, and is a free area.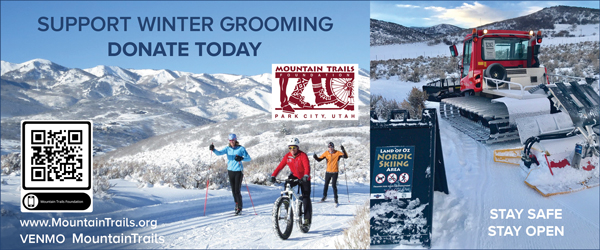 Q: Are there "trail etiquette rules" for skiing?
A: Yes! There's a great article in this issue by Barry Makarewicz about that. Generally, a little kindness goes a long way, give way to DOWNHILL skiers, pay attention to single-direction trails, stop to chat along the side or "in the rough", and please don't skate or step on the classic tracks (those two ski shaped tracks along the side). If you fall, replace your divots
Q: Where did all these little kids come from?
A: Our DEVO and Learn-to-ski programs share the track on Tuesday/Thursday afternoons and Sunday afternoons. Coaches will make all efforts to keep them in one spot and teach them etiquette, but the kids are still learning. Most of the time these groups ski Main, Mitten, and a few other main areas.
We were all new once. If you've been skiing awhile, help with directions and course info. If you're new, don't be afraid to ask! There are hundreds of years of skiing experience in our club. And welcome to our ski community! We're happy to have you here.