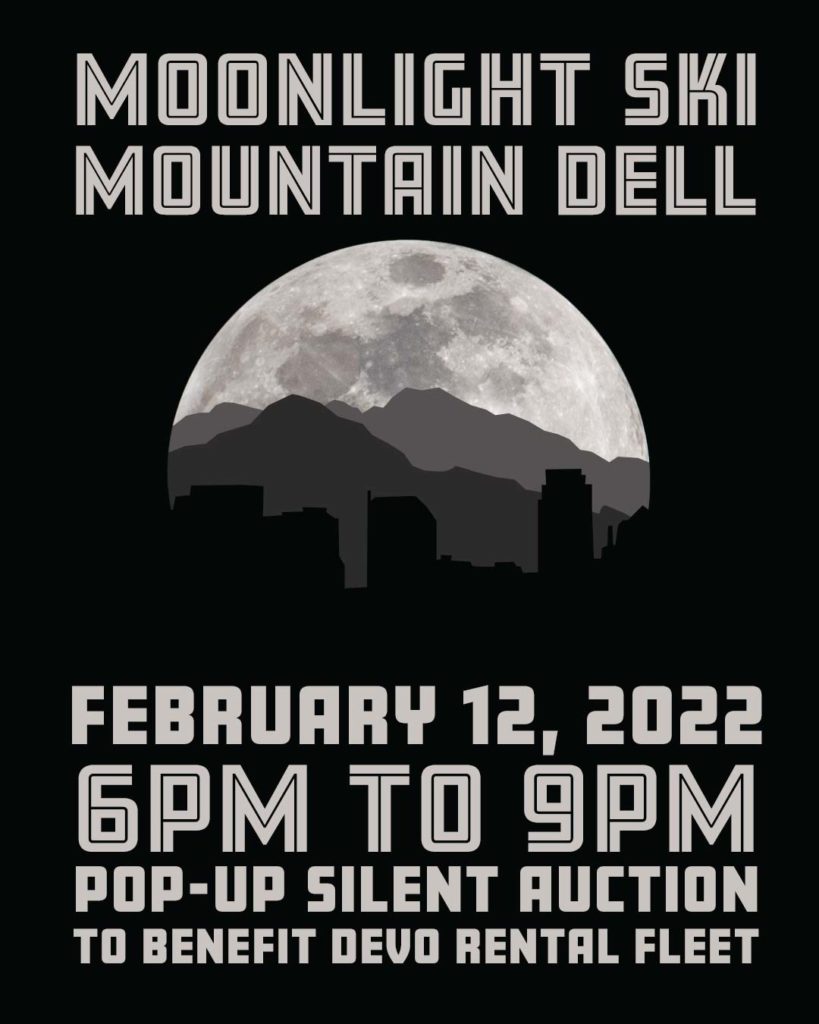 What: FREE Moonlight Ski and popup Silent Auction
Where: Mountain Dell — TUNA's "Home Course"
When: Saturday, February 12, 2022, 6pm
Why: FUN! And hopefully to raise funds to purchase more ski equipment for our youth programs
Who: You, your kids, your friends, anyone who thinks Nordic skiing at night would be cool! An all-ages event.
Donate!
We are looking for Silent Auction items:
Art, Paintings, Photography, Jewelry, Knitting, Quilting, Local art of any kind! Ski related art would be awesome too!
Gift Certificates, Tickets, or Rentals that can be auctioned.
Experiences: Can you provide someone with a fun or interesting experience? Coaching sessions and other ski related services. Teach a person a special skill, technique, or give them a fun behind the scenes experience? Write up a little bio or experience we can set on the table to auction. Include your business card, brochure or information on your business/experience.
New/Unused ski gear or gifts you've never used (or ever will use) can be auctioned too!
Item Dropoff
Skiing at Mountain Dell on Tuesday or Thursday afternoon during Devo? Drop off auction items at the top of the hill with Kyler or Sarah. For other options, contact: Kyler Rendle 801-440-0448 or Sarah Thoms 801-803-8865.
Details
This is a popup event, meaning it's going to be super casual this year. Sure, we'd love to serve food and drinks and all that, but COVID. So instead, this year, we're asking you to bring yourselves, a headlamp, your own snacks, and an auction-winning attitude if you like what you see!
Help Us Out
Do you have a business, a special talent, or something you could auction off? We'd love your donation. Contact: Kyler Rendle 801-440-0448 or Sarah Thoms 801-803-8865
What's In the Auction?
STAY TUNED! As we receive items, we'll list them here so that you'll have an idea what's out there.
Bringing a friend who doesn't have skis?
AWESOME! Here's where they can rent stuff: